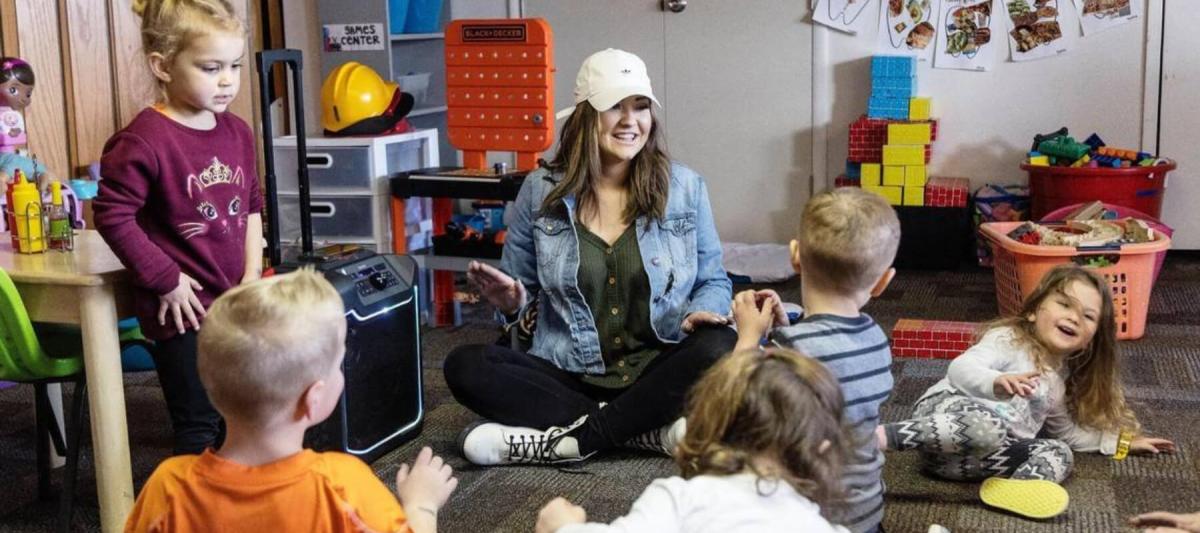 Rachel Spacek | Idaho Statesman
The waiting list for children to enroll at Ten Mile Community Church Day Care in Meridian is too long for Lisa Martello, the director, to count. The day care center has been operating with a shortage of at least three staff members since 2020. The center is also tasked with meeting the growing demand for child care as the population grows. Child care providers throughout the Boise area say there are not enough day care centers to meet the demand.
The problem is twofold: Wages for child care employees are not keeping up with the wage increases offered by other industries, leaving many child care centers to operate at lower capacities; and the local population keeps growing. The 2020 Census ranked Idaho as the fastest-growing state in the country.
Little Wage Growth And Hiring Challenges
Over the last two years, Martello consistently watched employees leave Ten Mile Community Church Day Care for higher-paying jobs at the Treasure Valley hospital systems and at Amazon. The starting wage at Ten Mile Community Church Day Care is $12 an hour. "We have been down four people the last several months," Martello said by phone. "I hired my daughter because I couldn't find anyone to work here. She had no choice. We just can't get people in. "
Martello said applicants are not showing up for job interviews she has scheduled, or if they show up, she said, they ask for more money than she is able to pay.
The day care center has 60 children enrolled in its day care center and preschool. The children range in age from 3 months old to 10 years. It has only eight staff members, Martello said. And Ten Mile Community Church Day Care is not alone with staffing issues and long waiting lists, Martello said. "Nobody has openings," she said.
Ten Mile Community Church Day Care didn't close during the beginning of the COVID-19 pandemic, as many other day care centers had to. The center did increase its rates per child just before the pandemic hit, to try to raise wages for workers. It also raised rates again last year.
"Our rate increases were not as high as other places, but I don't know how parents do it," Martello said. "I have done this for 27 years, and it is sad when parents call and you have to tell them you don't have any room or how much it is going to cost, and they are kind of sticker-shocked by it."
The day care center increased its rates 12% to 20%, depending on the age of the child. Rates range from $472 to $899 a month. Martello said the day care center tried not to raise its rates by much, because she knows it hurts parents. But when 80% of the center's budget goes to wages and it is a struggle to hire people, something has to give, Martello said.
Large Population Growth Leads To 'Child Care Deserts'
Before the pandemic, Idaho was short over 20,000 child care spots, reported Idaho Voices for Children, a nonprofit policy organization, in a news release. Since 2019, over 200 child care businesses have closed their doors permanently.
"With a 20,000-spot shortage identified as early as 2019 and the population growth indicated by the most recent Census data, coupled with child care closures throughout the pandemic, we assume Idaho's shortage of child care spots has significantly expanded," said Emily Allen, outreach and policy associate with Idaho Voices for Children, in an email.
Idaho Voices for Children research shows that nearly half of Idaho families live in a "child care desert," without enough child care options to meet the demand. With population growth not likely to slow anytime soon in the Boise area, some local child care providers are looking to address the need by opening new centers. In the last six months, the Meridian planning department has received six day care site proposals, said city Planning Supervisor Bill Parsons in an email.
In Boise, Micron Technology Inc. applied to build a private child care center for its employees. Boise also received a request for a Montessori school with a day care center for infants to children 6 years old.
Parsons said the applicants looking to build child care centers told the Planning and Zoning Commission that Meridian is underserved.
"This does create opportunity for new centers to open if they can find the funds and staff to run them," Allen said.
Idaho has a grant program, the Idaho Child Care Grant program, that uses federal funding to aid low-income families with child care services. People may qualify for the program if they need child care for a child under the age of 13, or 13 or older with special needs, and the primary caretaker:
Works, attends school or is part of an approved training program;
Supports a foster child;
or Receives Temporary Assistance for Families.
More information can be found at healthandwelfare.idaho.gov.